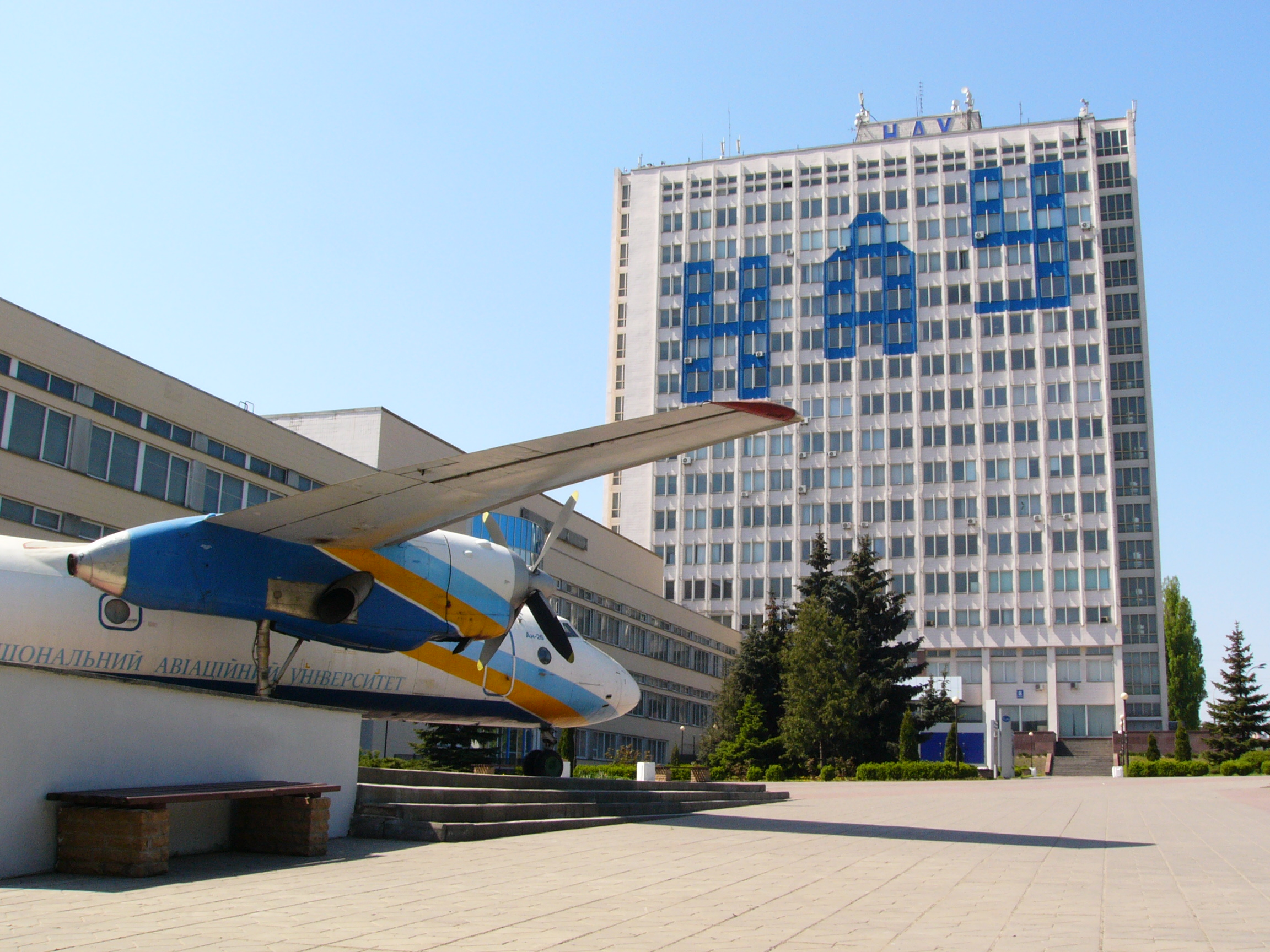 Useful information for the applicant and student
 How to get to the University?
   Campus of the National Aviation University is connected with other areas of Kyiv due to developed system of public transport: Subway (stations "Shulyavska" "Polytechnichnyy Instytut" with a transfer to the trolley bus # 27 or speed tram # 1K, № 3), bus (route # 69) , trolley bus (route # 27), tram (route # 1K, № 3) or taxis (№ 69, № 401, № 411, № 427, № 433, № 438, № 454, № 463).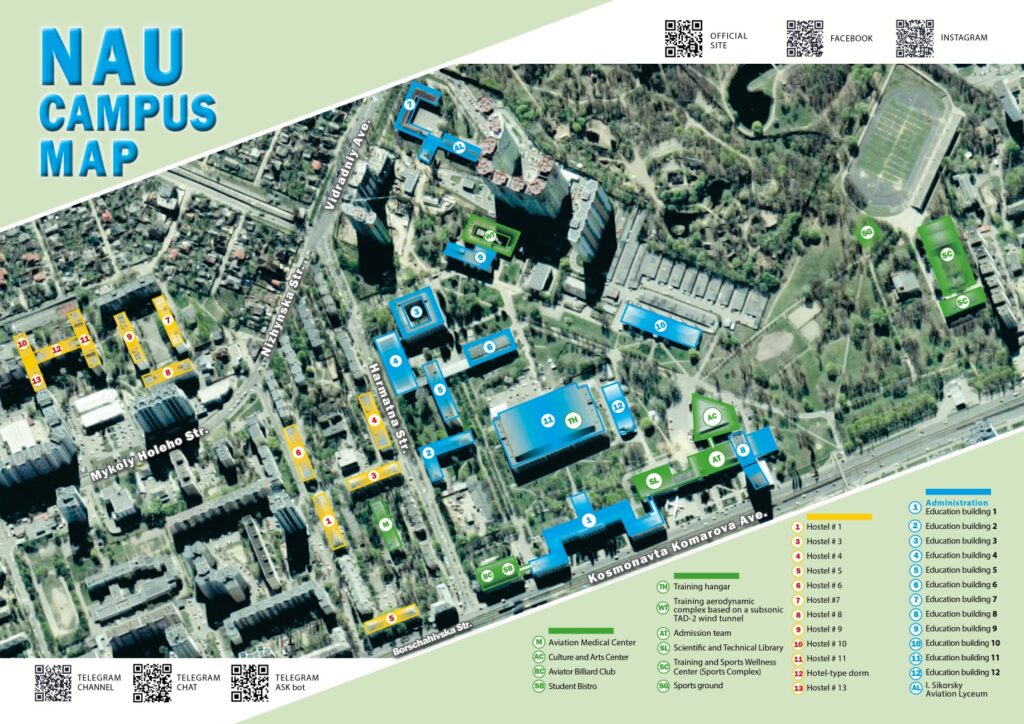 Accomodation
   Students live at the place of their registration – in dormitories with double, triple and quadruple rooms. The vast majority of hostels is section type, with a bathroom and kitchen in each section. All dormitories are located geographically concentrated in the University campus, which is adjacent to the park area.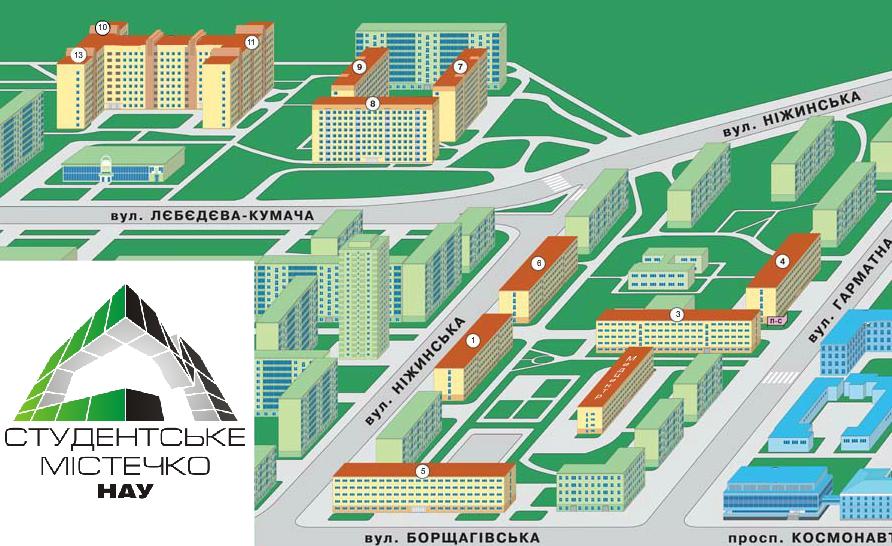 Student campus includes 11 hostels, one of them is a hotel type. Total living area is 70 504 sq.m. Buildings are constructed of brick, five hostels are five stored buildings, and six – nine stored ones.
All living rooms are equipped with new furniture, household rooms – with modern plumbing and washing machines.
For physical training there are two 2 sports grounds on campus.
Food at NAU
 Students can use the Student Bistro, cafe, cafeterias in each building. The cost of lunch at the Student Bistro is about 1 euro.
Health and Insurance
Medical care at the University is carried out in Medical Center of NAU, which is located in the campus. As well as state and municipal health care of Kyiv.
Health insurance is mandatory for all foreign citizens upon arrival into Ukraine.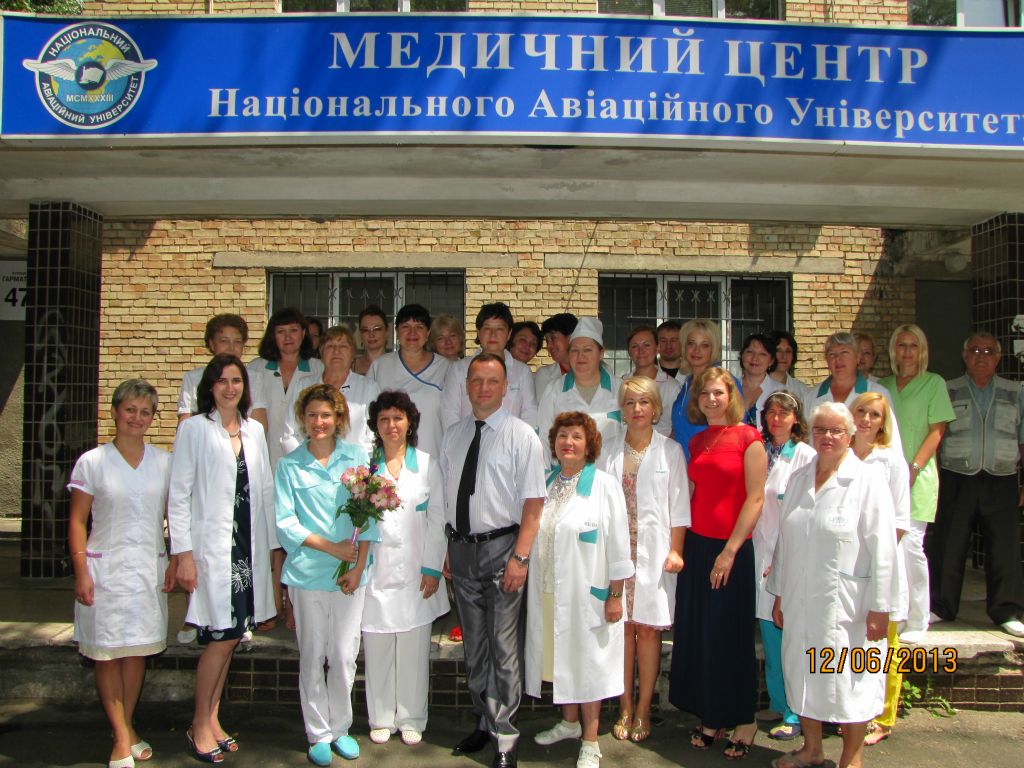 Scientific and Technical Library
Scientific and technical library of the National Aviation University is one the biggest HEI libraries located in Kiev, and the biggest among civil aviation libraries of Ukraine.
Library sources are used by about 17 thousands readers and subscribers of between-library subscription. The library is visited by more than 600 thousands users per year, and the amount of literature they obtain exceeds 1.5 million units. 
The library is located in separate building, occupies the area 5.4 thousands square meters. There are 5 subscriptions and 9 reader's halls introduced to user's usage. The library has the electronic catalogue of literature, which has been incoming since 1994. Electronic base of analytic materials with periodicals and card-table search system.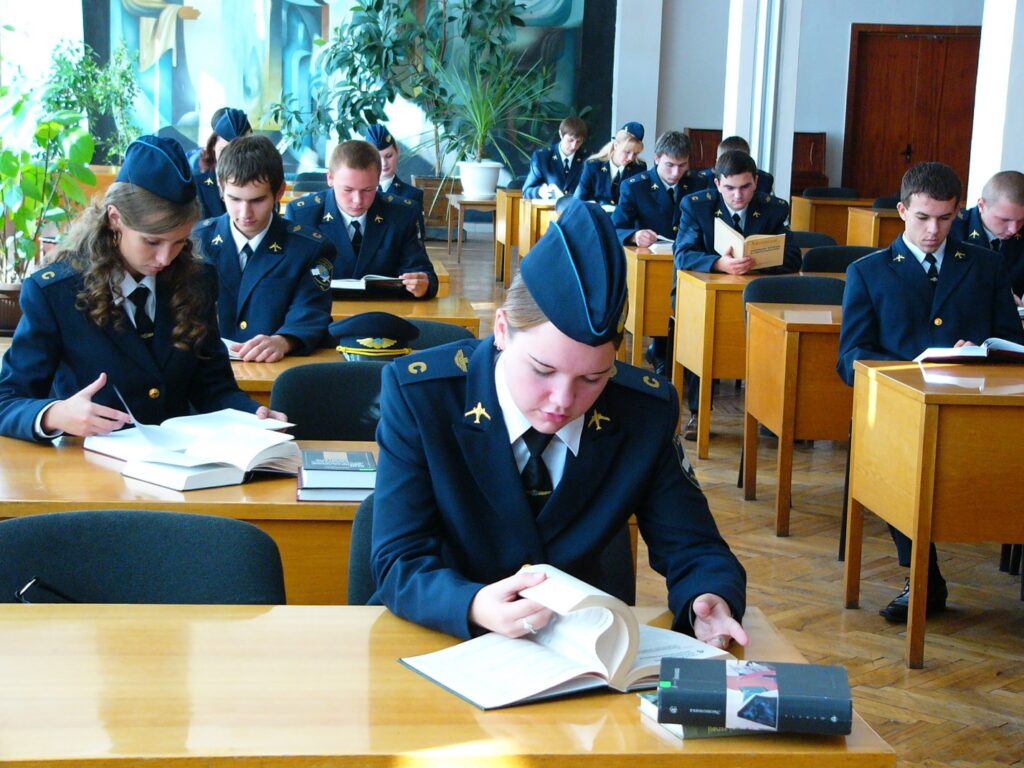 The Scientific and technical library is the place of meetings of students with scientists, literature and art figures, veterans. Here take place different readers conferences, literature-thematic evenings, verbal magazines, bibliographic reviews.   Additional information about the library of NAU may be obtained directly in every structural subdivision.
Leisure
Students of the National Aviation University live multifaceted, creative lives: they earn professional knowledge and skills, learn to work and communicate, enrich spiritually, promote personal cultural level. The University has a great tradition worked out, which is a complete system of work with students in extracurricular time.
Center of Culture and Arts of NAU 
The focus of the student's cultural life is the Center of Culture and Arts of NAU.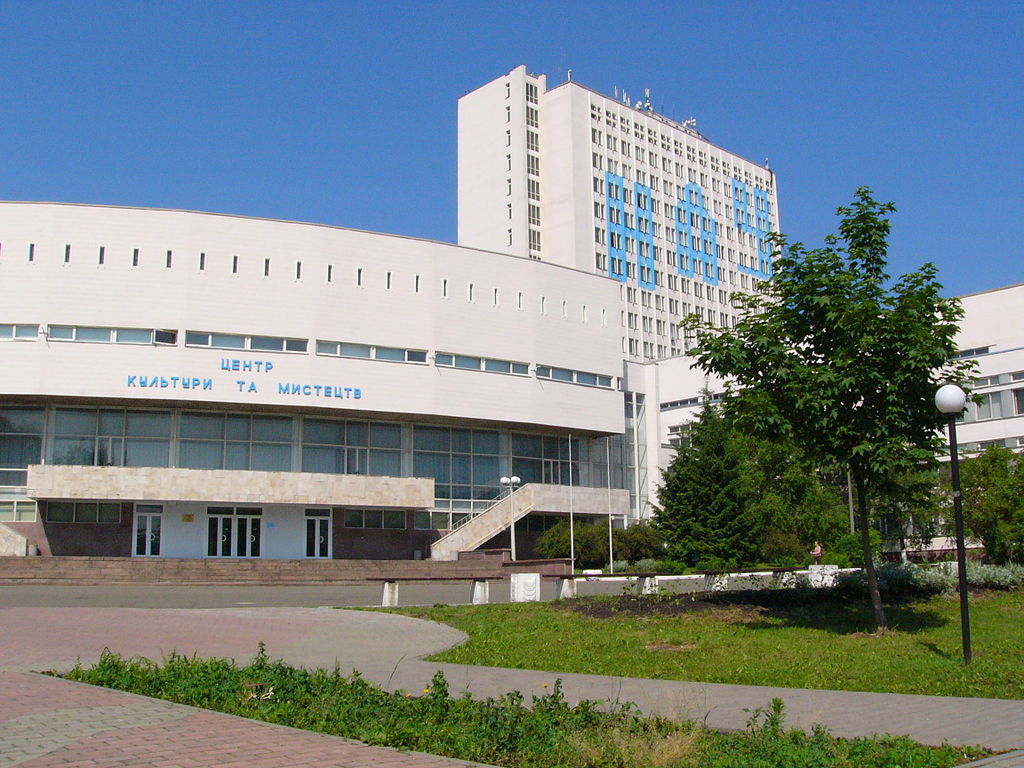 Since 1980 traditional events of the university such as «Ceremony of consecration of freshmen to students-aviators", student festival "Student Spring" gained great popularity in the university.
Sports and Health
The main task of the Center is to promote healthy lifestyle, to develop athletic skills of students and teaching staff of the University, to popularize active leisure.
On the basis of the Center there are various sports activities, sports clubs are operating systematically, the yacht club and the training ground is a favorite week-end destination not only for students and university officials, but also for residents of Kyiv region.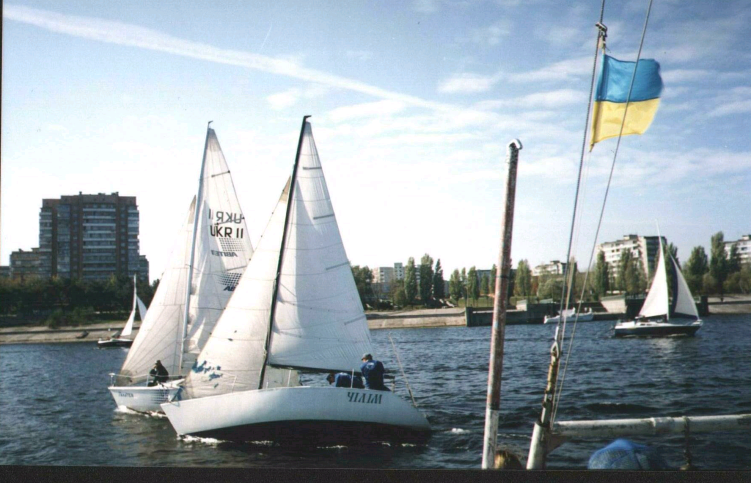 Not every university boasts a yacht club.
Over 10 years ago, athletes-sailboats of the University started sailing regatta "Southern Watch", which last year was included in official calendar of events in sailing among cruising yachts of the Sailing Federation of Ukraine. 
COMPARATIVE ANALYSIS OF COSTS OF A FOREIGN STUDENT IN KYIV (UKRAINE)
ADDITIONAL COSTS AT THE UNIVERSITY
IN ADDITION TO PAYMENT FOR STUDY, COSTS OF FOREIGNERS ARE ADDITIONALLY APPLIED TO:
COST OF INVITATION TO STUDY – 1578 UAH
ACCOMMODATION IN THE DORMITORY OF NAU FOR 1 MONTH – 1500 UAH
ALLERATIVE OPTIONS
RENT FOR A MONTH
(KYIV, NOT ON THE TERRITORY OF THE UNIVERSITY CAMPUS)
Rent Per Month

APARTMENT (1 BEDROOM)
IN THE CITY CENTRE
$288.15

APARTMENT (1 BEDROOM)
OUTSIDE OF THE CITY CENTRE
$173.17
APARTMENT (3 BEDROOMS)
IN THE CITY CENTRE
$561.64
APARTMENT (3 BEDROOMS) OUTSIDE OF THE CITY CENTRE
$329.73
MEDICAL INSURANCE FOR ONE YEAR (FOR STUDENTS OF THE TRAINED DEPARTMENT) – 2600 UAH
    – FOR BACHELORS FOR 4 YEARS OF STUDY – UAH 7,200
    – FOR MASTERS FOR 1.5 YEARS OF STUDY – UAH 2,880
.
MIGRATION RISK INSURANCE – UAH 600
"CERTIFICATE" FOR TEMPORARY STAY – 2,000 UAH
REGISTRATION BY PLACE OF RESIDENCE – 320 UAH
TRANSPORTATION

ONE-WAY TICKET
(LOCAL TRANSPORT)
$0.17

MONTHLY PASS
(REGULAR PRICE)
$8.69

TAXI START FEE
(NORMAL TARIFF)
$1.34
UTILITIES (MONTHLY)

1 MIN. OF PREPAID
MOBILE TARIFF LOCAL
$0.03

INTERNET (10 MBPS,
UNLIMITED DATA)
$3.52
SPORTS AND LEISURE

FITNESS CLUB
(MONTHLY FEE)
$15.58

TENNIS COURT
RENTAL (1 HOUR)
$7.86

CINEMA
(1 SEAT)
$3.05
RESTAURANTS

MEAL, INEXPENSIVE ,
RESTAURANT
$4.26

MEAL FOR 2 PEOPLE,
MID-RANGE REST.
$16.75

MCMEAL AT
MCDONALDS
$2.51

WATER
(0.33 LITER)
$0.30

CAPPUCCINO
(REGULAR)
$0.82
MARKETS

REGULAR MILK,
(1 LITER)
$0.56

LOAF OF FRESH
WHITE BREAD (500G)
$0.32

EGGS (12)
$1.01

LOCAL CHEESE
(1KG)
$4.15

BEEF
(1KG)
$3.77

APPLES
(1KG)
$0.78

BANANAS
(1KG)
$1.28

TOMATOES
(1KG)
$1.29

WATER (1.5 LITER
BOTTLE)
$0.42
RICE (WHITE)
(1KG)
$0.99